Kona Red Chloe: Chole  AKC PR20932902 DOB 06/13/2018  OFA Hips Good; Elbows Normal.  PRA Clear.  Chole is from Kona Poodles Angela and Teddy.
Mydrm Hot to Trot: Wyatt  AKC PR21647501 DOB 06/07/2018 OFA Hips Good Elbows Normal PRA Clear.  Wyatt came to Kona Poodles from Victoria Australia from Shertonah-MYDRM kennels.
Kona Roxanne Of Barrow: Roxy  AKC PR18646803 DOB 8/18/2015  Roxy is the daughter of Teddy and Angela   She was owned by Randall Barrow until his death.  Roxy returned to Kona Poodles and is now part of our breeding program.
On April 8, 2010, two standard poodle puppies arrived from Stuartlea Standard Poodles in Victoria, Australia. Ruby and Teddy were both gorgeous reds. They could not be bred, because they are brother and sister. Ruby was ultimately sold as a pet to a great Kailua family. Teddy is a favorite with the girls, because he courts them. Ted is a loving, happy boy.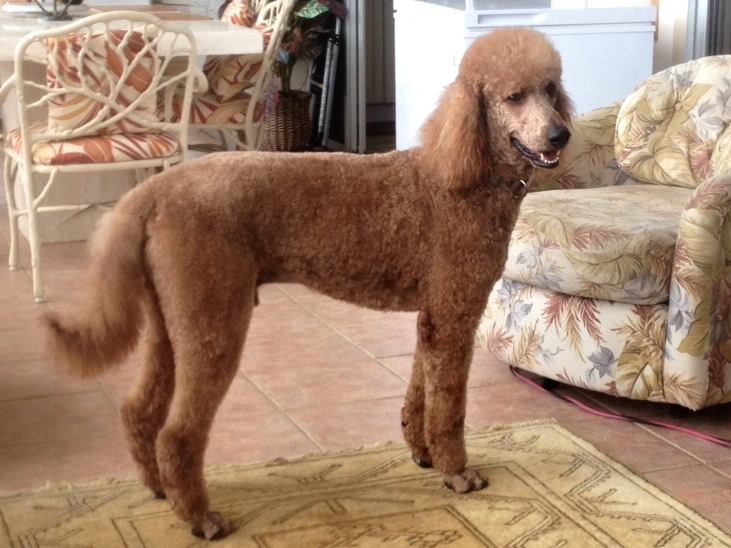 Simply Red Not Paprika (Rika) arrived in early February 2011 after she met Hawaii quarantine regulations. Rika is four-years old and a fine apricot girl. She was bred to Wildrose Ben There Done That (also apricot) and had a litter of 10 puppies on March 30, 2011, both apricots and reds. She had a second litter in April 2012 with Teddy. Rika was retired from breeding in 2012 and adopted by a loving family.
In April 2011, Shertonah Heaven Sent (Angela) arrived from a leading poodle breeder in Victoria, Australia. Angela is an apricot daughter of Australian CH Foster's Omega Von Akim (imp. Sweden) and Stuartlea Red Turbo. Angie is a beautiful, large girl with a very sweet temperament.