---
ANGELA
In April 2011, Shertonah Heaven Sent (Angela) arrived from a leading poodle breeder in Victoria, Australia. Angela is an apricot daughter of Australian CH Foster's Omega Von Akim (imp. Sweden) and Stuartlea Red Turbo. Angie is a beautiful, large girl with a very sweet temperament. Angela retired in 2019.
TEDDY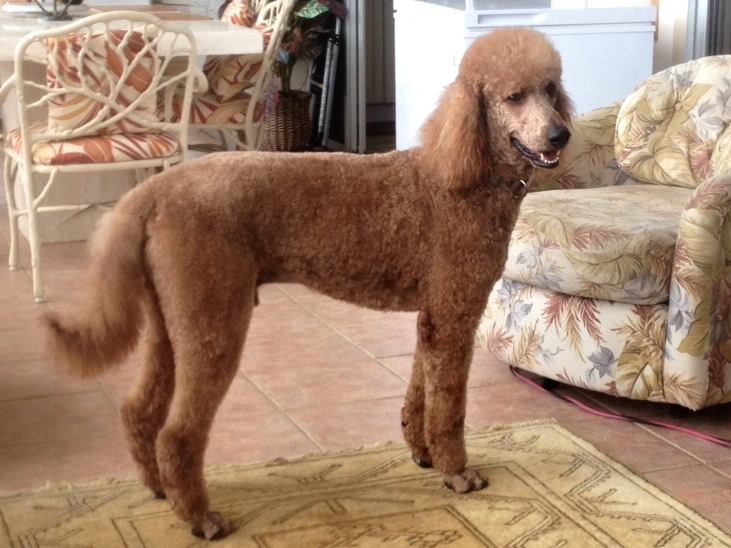 On April 8, 2010, two standard poodle puppies arrived from Stuartlea Standard Poodles in Victoria, Australia. Ruby and Teddy were both gorgeous reds. They could not be bred, because they are brother and sister. Ruby was ultimately sold as a pet to a great Kailua family. Teddy is a favorite with the girls, because he courts them. Ted is a loving, happy boy. He went on to sire many Kona Poodle litters until his retirement in 2019.
---
Nani
Leinani came from From Simplyred Standard Poodles in Augsut 2010. She's a big, beautiful girl. We bred her to Teddy for a black, red, and apricot litter in 2013. They bred again in 2014 and had 11 puppies on January 6, 2015.
---
Bella
BELLA
In April 2011 Tanah's Lovely arrived from Victoria Australia. Bella is an adorable black girl from excellent show lines. Her conformation is wonderful, and she is a loving, happy girl. Bella also has the best non-tangling coat we have seen.
---
Quincy